Ehsaas Interest Free Loan Programme 2021 via JIP
31-05-2021
حساس بلاسودقرض پروگرام کےتحت جو چھوٹے کاروباری قرضے جاری کیئے جاتے ہیں ان کی حد 20ہزار سے 75ہزار روپے تک ہے۔
23-05-2021
احساس بلا سود قرض پروگرام کے تحت چھوٹے کاروباری قرضےملک کے110 اضلاع میں سال بھر جاری کیئے جاتے ہیں۔ قرض حاصل کرنے کی تمام تر تفصیلات مندرجہ ذیل ھیں۔
:نمایاں خصوصیات اور اہلیت کا معیار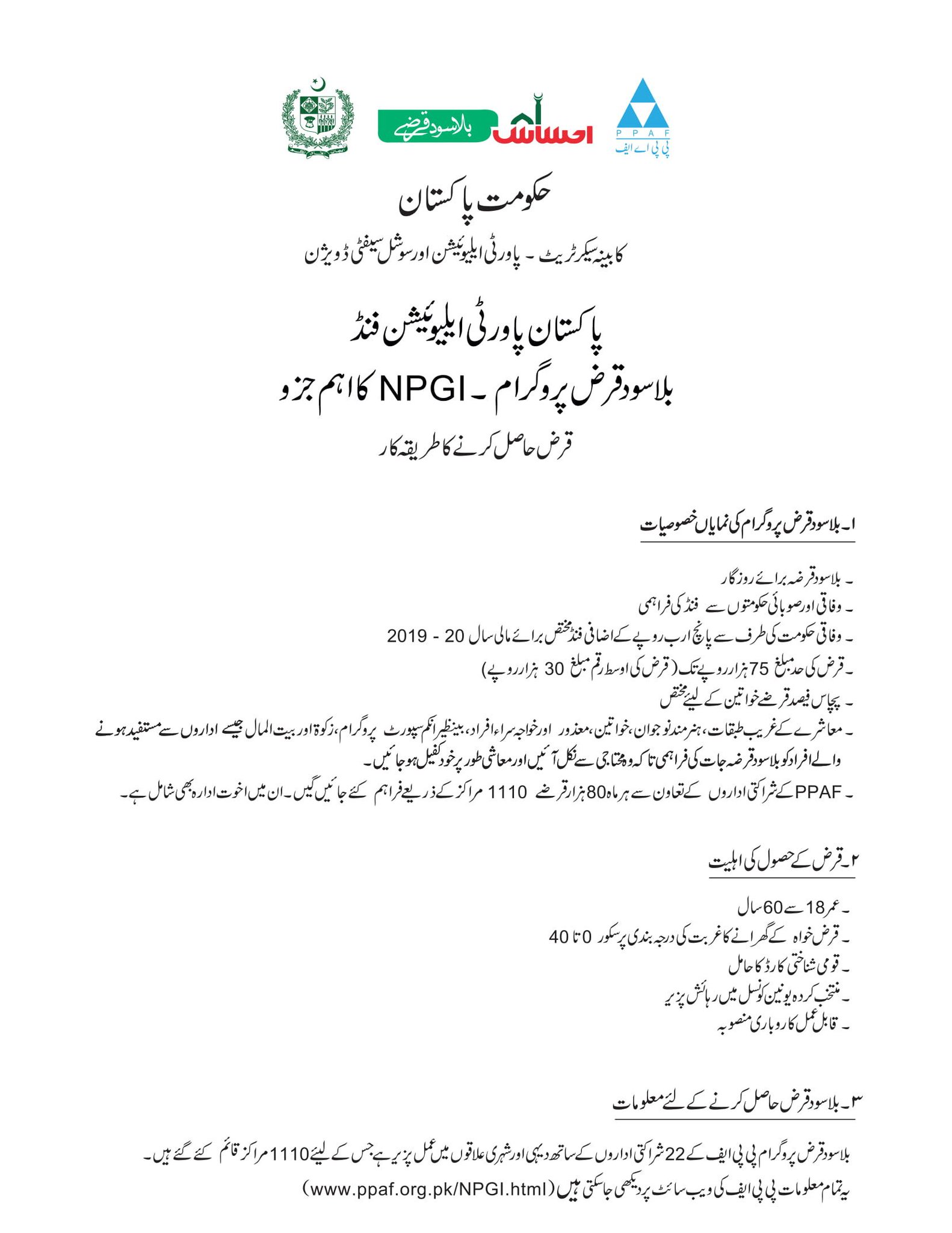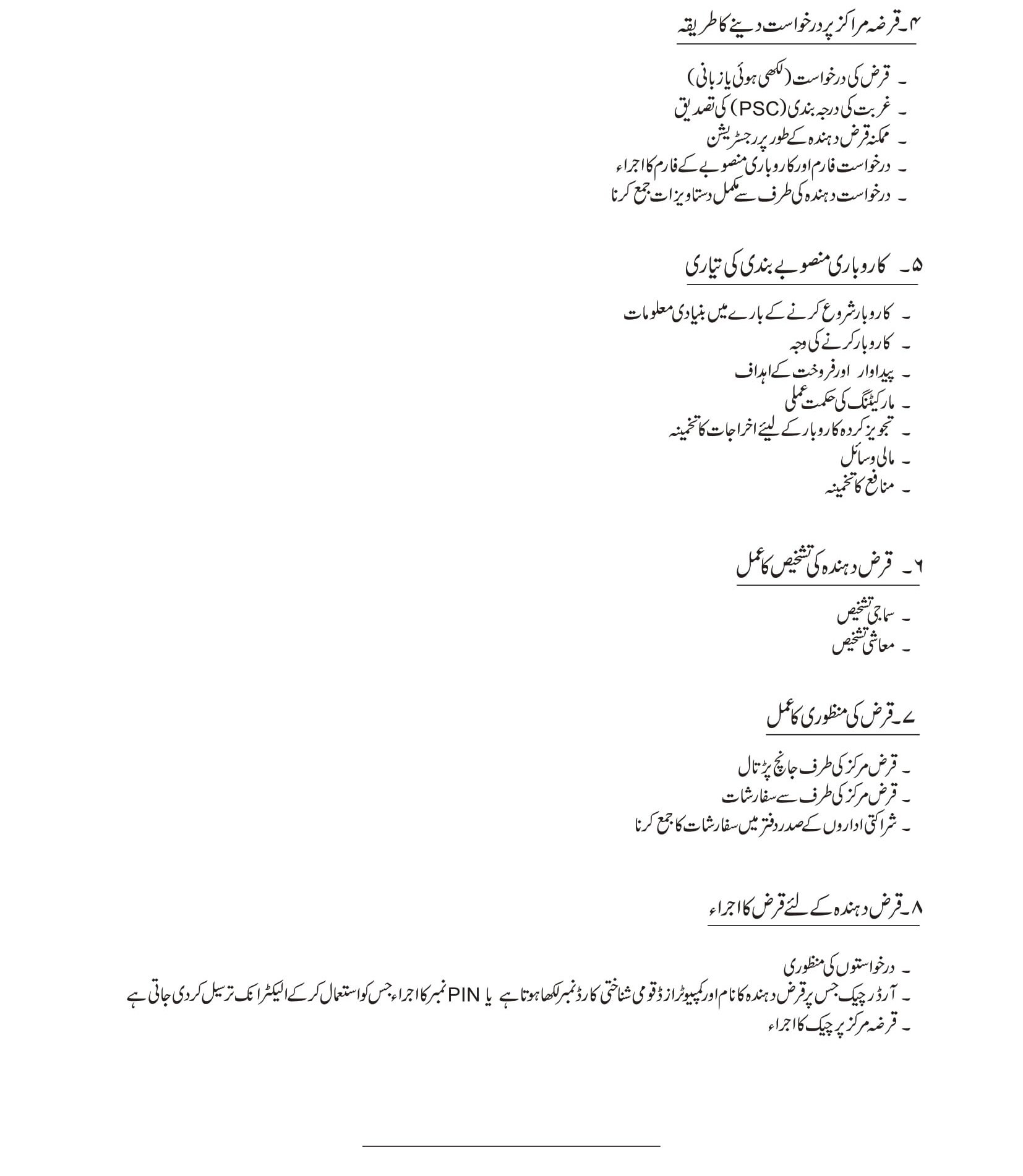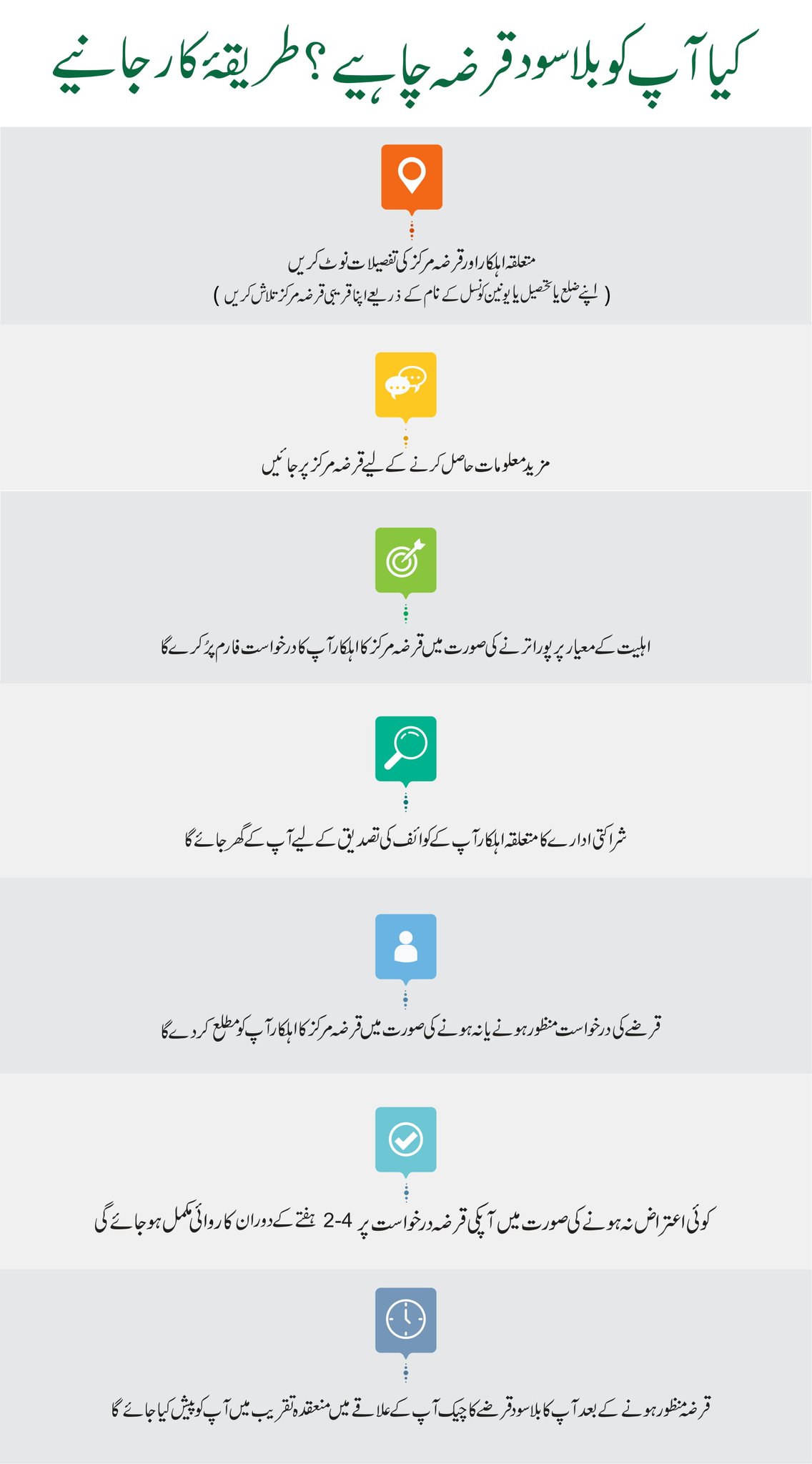 :قرضہ مراکز
مندرجہ ذیل میں دیئے گئے لنک پر کلک کریں اور احساس قرضہ مراکز کی مکمل فہرست دیکھیئے
فہرست دیکھیں
مکمل فہرست ڈأون لوڈ کریں
---
National Poverty Graduation Initiative
(NPGI)
:این پی جی آئی کے بارے میں NPGI
Government of Pakistan
Cabinet Secretariat
Poverty Alleviation and Social Safety Division
BRIEFING NOTE
Launch of National Poverty Graduation Initiative (NPGI)
---
From Poverty to Prosperit
Comprehensive Programme on Asset Transfers, Interest Free Loans and Skills Trainings
The National Poverty Graduation Initiative (NPGI) is part of the Ehsaas strategy. It aims to graduate the
poorest households out of poverty and set them on a course of economic and social prosperity. Its components include (i) asset transfers; (ii) interest free loans and; (iii) vocational and skills training to
make assets productive.
The graduation initiative aims to reduce dependence of the population at the bottom of the economic pyramid on government-led social safety nets (BISP, Zakat and Baitul Mal programmes) and helps to bring this population into the mainstream of economic development and nancial inclusion.
The government, in addition to its own funding, is partnering with the International Fund for Agricultural Development (IFAD) and the Asian Development Bank (ADB) in this initiative.
Total projected cost of the initiative is Rs. 42.65 billion.
IMPLEMENTATION ARRANGEMENTS:
The initiative will be executed by Pakistan Poverty Alleviation Fund (PPAF) and BISP. More than forty
partnering NGOs will be involved in executing this initiative including the Rural Support Programs and
Akhuwat.
TARGETING, SELECTION AND IMPACT:
This initiative is being rolled out in over 100 districts and will impact 16.28 million people with 50%
women. The initiative also includes youth, persons with disabilities, transgender people, minorities
and marginalized communities in lagging districts. Selection of beneciaries is based on the
Poverty Score Card used by the government and donors.
COMPONENTS OF THE NATIONAL POVERTY GRADUATION INITIATIVE:
Asset Transfer: 

225,000 assets will be provided to the poorest of the poor to start their small businesses along with skills training and business planning. The average cost of the asset which will be given as a grant is Rs. 50,000. Furthermore, they will have access to interest free loans (see component ii below). In total 1.45 million people will benet from this component. Recipients of asset transfers is determined by the partner organizations using the Poverty Score Card.

Interest Free Loan Programme: 

This is a major component of the Initiative. From July 2019 onwards, 80,000 interest free loans will be disbursed every month. The range of the interest free loans is Rs. 20,000 – Rs. 75,000. As many as 3.8 million interest free loans will be provided (80,000 loans a month for the next 4 years) to 2.28 million households. In total, 14.7 million people will benet from this component. Interest free loans are being accessed through existing 1,110 loan centers operated by partner organizations. As additional districts are added, new loan centers will be established. Information will soon be available on the website of Poverty Alleviation and Social Safety Division. Meanwhile, please visit website of PPAF for list of loan centers and eligibility criteria (www.ppaf.org.pk/NPGI.html)
Vocational and Skills Training: Recipients of asset transfer and interest free loans will be provided skills and business development training as needed to ensure sustainable livelihoods. Furthermore, an additional 20,000 youth will be provided special skills to develop innovative businesses. This additional training will benefit 129,000 people Certified training courses will be conducted by NAVTTC.
TODAY'S LAUNCH:
Today, the Prime Minister is launching the National Poverty Graduation Initiative (NPGI), marked by 391 cheque distribution ceremonies where 86,151 interest free loans worth Rs. 3.02 billion are being given out across Pakistan. During the next four years, every month around 80,000 interest free loans will be disbursed, nationwide. Furthermore, over 9,000 assets will be distributed every month over the next two years.
Cheque distribution will not be conducted in the FATA in July due to the upcoming elections.
On July 05, 2019, the Prime Minister is chairing a ceremony in the Auditorium of PM oce Islamabad and will distribute a few cheques to interest free loan borrowers to launch this nation-wide initiative.
اردو میں پڑھیں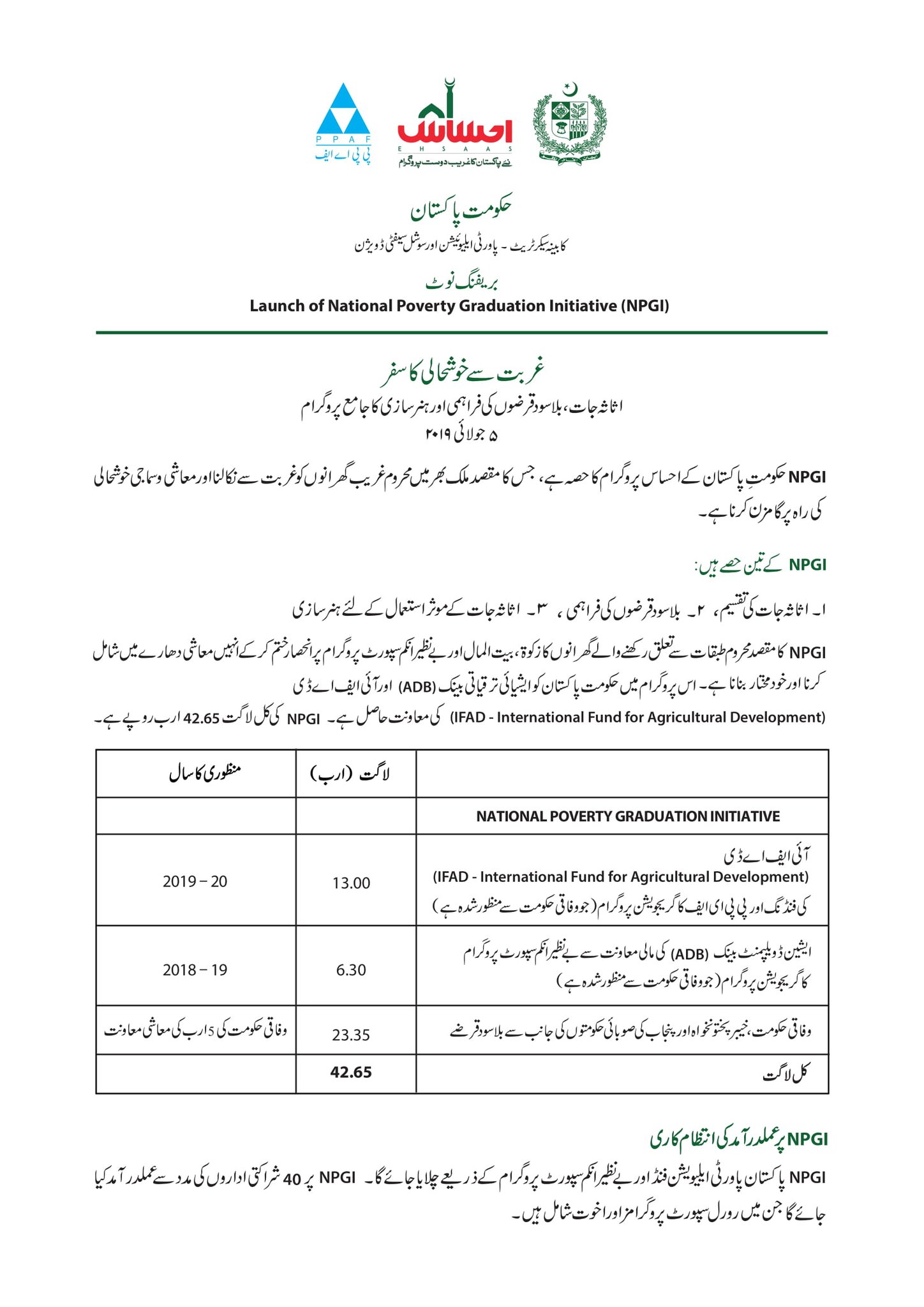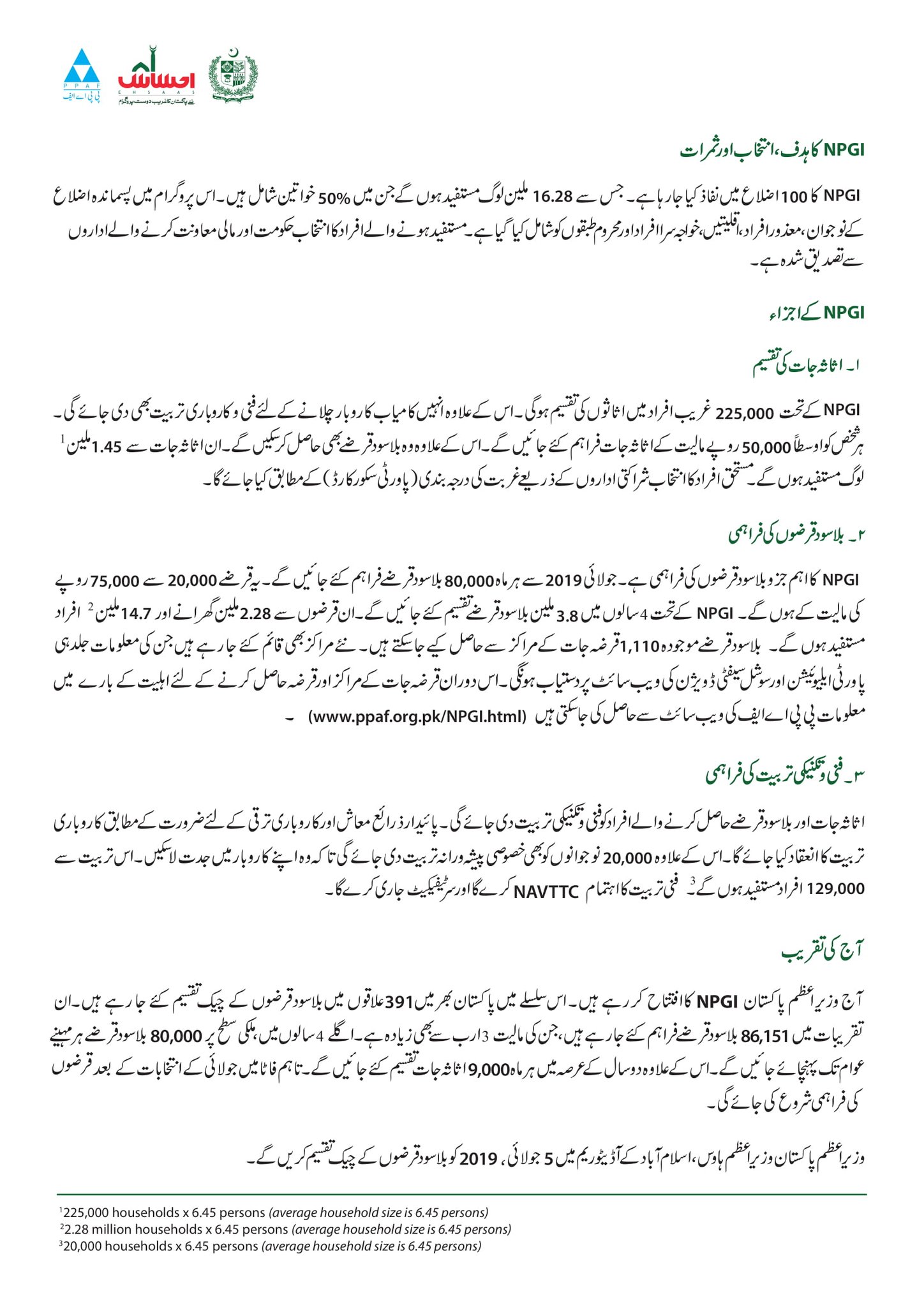 :شراکتی ادارے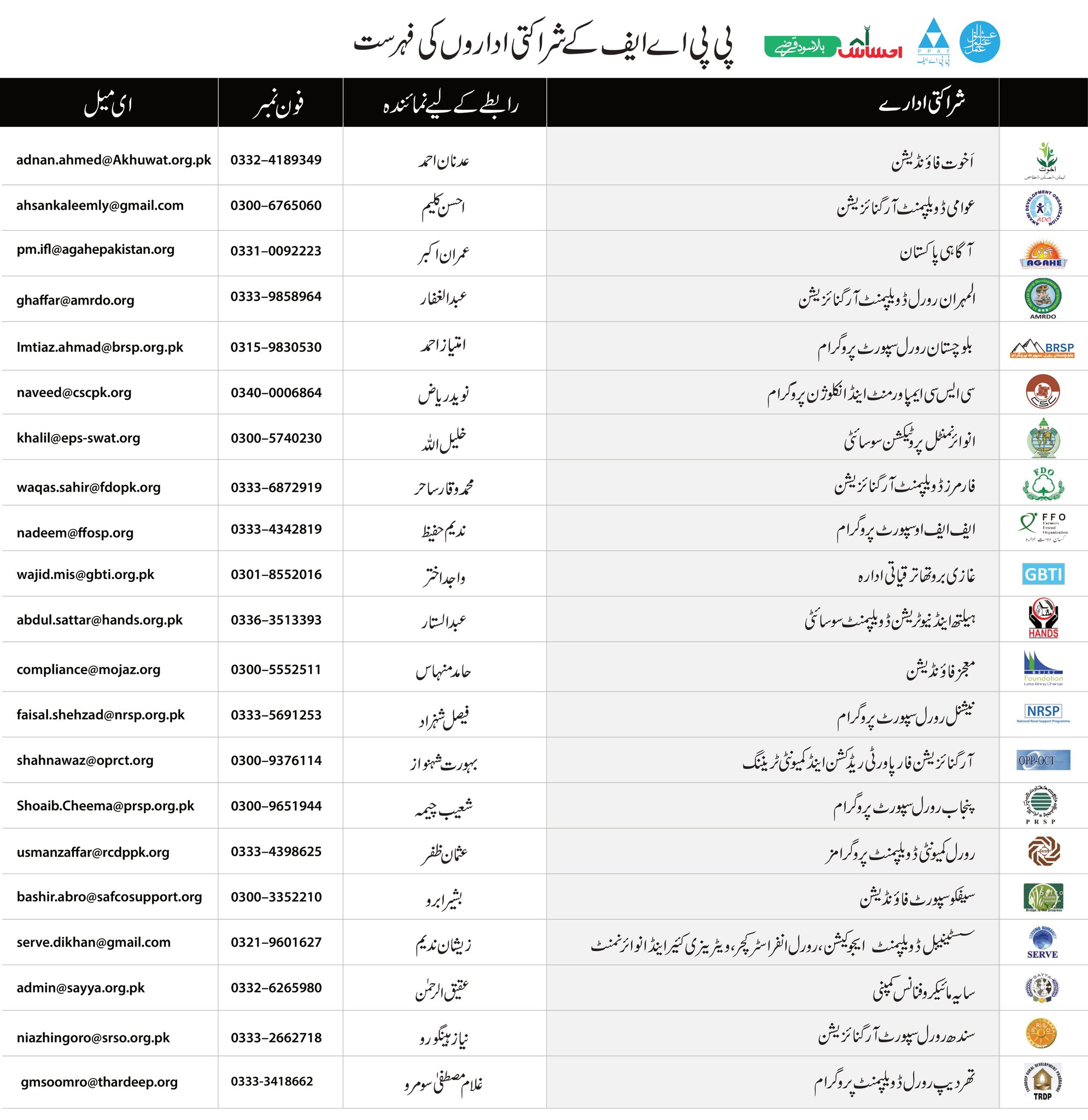 :ماہانہ کارکردگی